The South Central Macomb Democratic Club stays active with the residents of Eastpointe, Fraser, and Roseville. The club hosts an annual picnic, candidate forums, and general membership meetings to inform members of pressing issues. Also, the club keeps in touch with the county committee, Congressional district committee, and State party.

Gubernatorial Debate Watch Party
Thursday, October 13, 2022
Watch our amazing Governor Gretchen Whitmer debate Tudor Dixon.
Come on out! For more details, check out our Facebook event!
Fundraiser for Carl Marlinga
Sunday, October 9, 2022
Carl Marlinga, our Democratic nominee for Congress, will be joining previous Congressman David Bonior and current Congressman Andy Levin for a fundraiser… join them!

First General Membership Meeting of 2021
Wednesday, April 21, 2021
We had our first General Membership meeting of the year, and our first with our new Chair Robert Roscoe! We had State Representative Kevin Hertel, Deputy Director of Voter Protection with MDP Dorian Tyus, and Regional Political Organizer with MDP Mona DeQuis. We discussed topics like the 39 voter suppression bills in the State Legislature, and the historic American Rescue Plan passed by Congress.
Here is a link to the Macomb County Candidate List, a link to the American Rescue Plan details, and the Arab American National Museum due to April being Arab American History Month.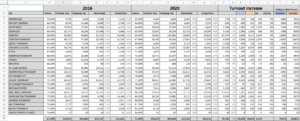 Comparing the 2016 and 2020 Presidential Elections
Wednesday, December 2, 2020
Between 2016 and 2020, both the Democratic Party and Republican Party received more votes for President in every community throughout Macomb County. This spreadsheet explores that. The spreadsheet also helps show increases in turnout, and potential voters that could be recruited to the Democratic Party.
Please take a look at the spreadsheet here!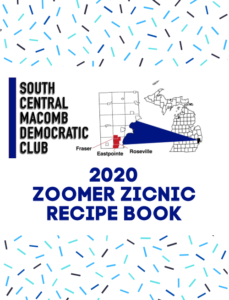 Zoomer Zicnic featuring State Representative Candidates
Friday, June 26, 2020
Our club hosted candidates from the 18th, 22nd, and 31st State House districts. Candidates in attendance were Kevin Hertel, Michael Anderson, Ryan Nelson, Bill Sowerby, and Michelle Robertson. We shared recipes for picnics that we will eventually have, and we also shared information about different parks in Eastpointe, Roseville, and Fraser. The forum was streamed live on Facebook, and can be found here.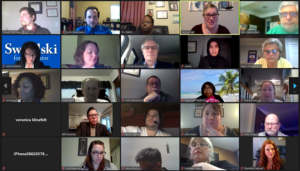 County Prosecutor Candidate Forum
Monday, May 19, 2020
The South Central Macomb Democratic Club hosted the five Democratic County Prosecutor candidates. The five candidates were Mary Chrzanowski, Saima Khalil, Tom Rombach, Jodi Switalski, and Eva Tkaczyk. The club does not endorse for a primary, but wants the members to be informed when they make a vote in August. We thank all the candidates for attending the meeting, and giving professional presentations!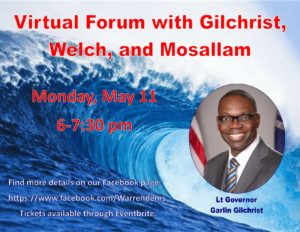 Virtual Forum with Lt. Governor Garlin Gilchrist
Monday, May 11, 2020
We co-hosted a virtual forum with special guest Lt. Governor Garlin Gilchrist, along with special guests Brian Mossallam (MSU Board of Trustees) and Attorney Elizabeth Welch (Candidate for Michigan Supreme Court). It was a great opportunity to hear directly from your elected leaders and candidates about the great work they are doing on our behalf. We would like to thank the Warren Dems for coordinating the event.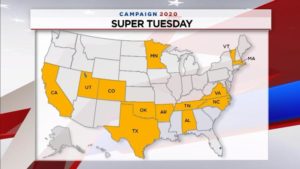 Soup-er Tuesday
Tuesday, March 3, 2020
Many of the local Dem Clubs in the area combined efforts, and hosted a Super Tuesday event, Soup-er Tuesday. This event was a potluck social event. Fun was had by all, and there was no lack of suspense in the election results.